Sunday Morning Life Group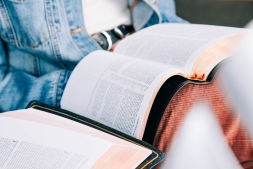 Life Group - Zoom 8:30 am
Click this link to our Zoom interactive meeting and be a part of what is happening in "class" from the convenience of your home
. We are currently teaching through the book of Acts.You will need to download a Zoom reader, which will come up when you click on the link (Don't worry this is free, easy and doesn't require credit cards). We meet from 8:30 -9:30, thus allowing everyone to get to church by 10:30.
We recommend you try to check in a bit early to make sure you are able to get on with the zoom link. You may find it helpful to try the links earlier to familiarize yourself with the controls. The Lifegroup will be interactive, so you will be able to ask questions and see one another if you click the video button, or simply listen in audio only. The worship service is a live feed of the service, but is not interactive, which means you will simply be listening in to the service as if you were in the chapel with us. We hope to "see" you all this Sunday.
Livestream worship will begin at our normal time of 10:30 a.m. and you may connect with us at the following link or you can connect through the banner on the front page of our website.